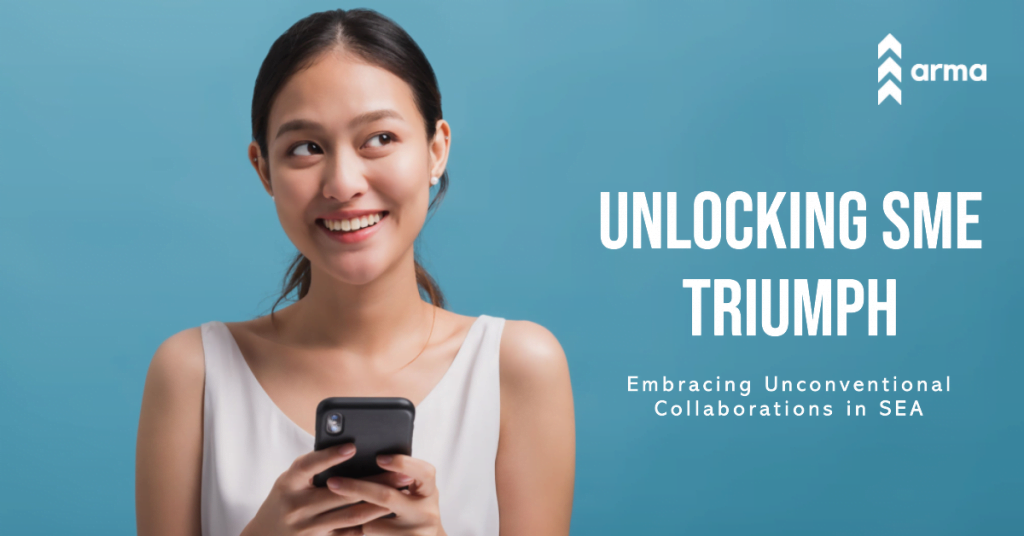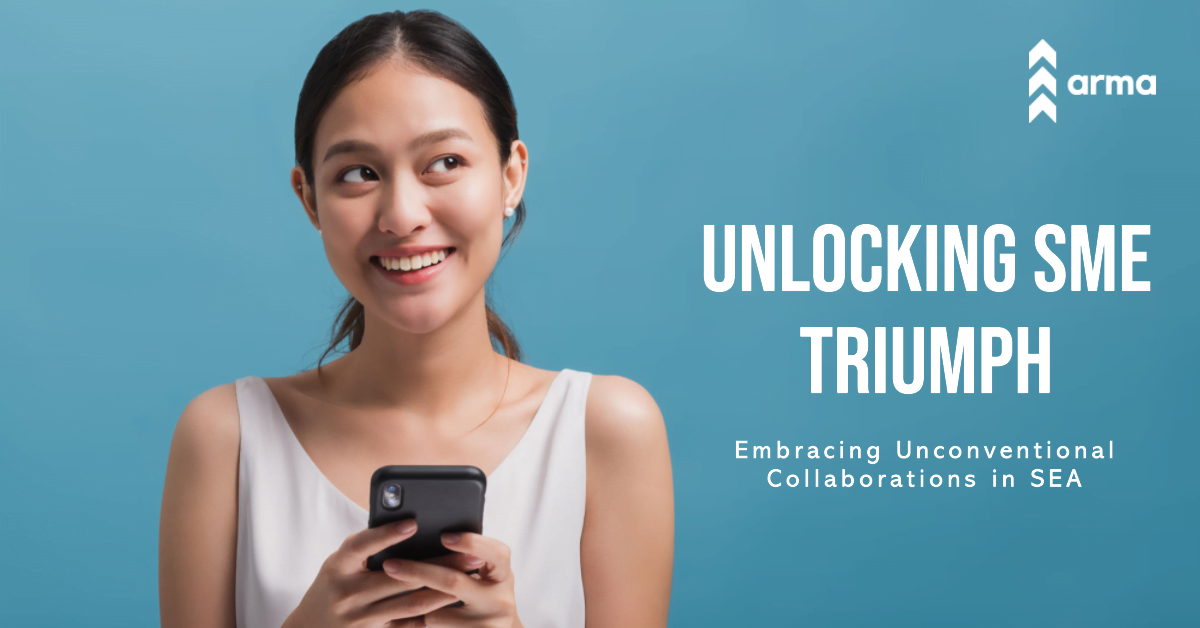 Welcome to the captivating world of hidden collaborative gems within Southeast Asian SMEs. Collaboration is not merely a choice; it is a necessity for SME success in this dynamic region. Southeast Asian SMEs are on a relentless quest for excellence, and at Arma, we understand the value of forging alliances that transcend traditional boundaries.

In this blog post, we will embark on a journey to unveil the transformative power of unconventional partnerships that have been propelling SMEs to new heights.

By exploring various intriguing partnership types reshaping the SME landscape, we will discover how embracing them, coupled with Arma, our purpose-built team collaboration service designed for Southeast Asian teams, can lead to sustainable growth, foster innovation, and strengthen market positions.
Cross-Industry Marvels

In Southeast Asia, some of the most innovative SMEs have dared to think beyond the confines of their industries and explore cross-industry collaborations. By joining forces with partners from diverse sectors, these SMEs have experienced exponential growth and unlocked unprecedented market opportunities.

A standout example of such collaboration is Grab, the leading ride-hailing platform in the region. With a vision to become Southeast Asia's everyday super app, Grab ventured into the financial services sector through a strategic partnership with Mastercard. The collaboration led to the creation of GrabPay, a mobile wallet offering seamless, secure, and convenient cashless transactions.

This foray into the world of fintech transformed Grab into a formidable player, expanding its services beyond ride-hailing to financial inclusion, and opening up new revenue streams. By leveraging Mastercard's expertise in the payment industry, Grab overcame challenges and penetrated markets more efficiently than if they had ventured alone.
Bridging the Generational Divide

Innovation is a driving force for SMEs, and embracing the fusion of experience and fresh ideas can lead to revolutionary products and services. Bridging the generational divide, SMEs are embracing collaboration between seasoned entrepreneurs and young innovators to tap into the best of both worlds.

A stellar example of this is the collaboration between Jollibee, the Philippines' iconic fast-food chain, and Mang Inasal, a homegrown barbecue fast-food grill. Jollibee's success had already solidified its status as a beloved brand across the nation. However, the company recognized the potential to tap into a new market segment with the burgeoning popularity of Mang Inasal. Instead of viewing them as competitors, Jollibee saw an opportunity for collaboration. They acquired Mang Inasal and infused their established brand with the fresh perspective and localized appeal of the grill chain.

This successful partnership resulted in the continued growth of both brands, enabling Jollibee to reach new consumers while maintaining their existing loyal customer base.
Empowering Communities for Growth

In the age of conscious consumerism, social responsibility has become a key pillar of business success. Collaborating with local communities and NGOs not only enhances brand reputation but also fosters customer loyalty and strengthens customer relationships.

One of the exemplars of this philosophy is Rags2Riches, a Philippine-based fashion company. Rags2Riches partnered with local artisans and communities to create eco-friendly and socially responsible products. By sourcing materials from local communities and providing fair wages to artisans, Rags2Riches not only empowered local craftsmen and women but also showcased unique, handcrafted items to a global audience.

This collaboration resonated with consumers who seek products with a purpose and a story. As a result, Rags2Riches built a loyal customer base that not only appreciated the brand's social impact but also admired the stylish and sustainable products.
Academia and Industry Collaborations

The pursuit of innovation and staying ahead in a competitive market has led SMEs to forge alliances with universities and research institutions. By collaborating with academia, SMEs gain access to cutting-edge research, insights, and talent, all of which are instrumental in driving innovation.

A prime example is Tessa Therapeutics, a Singaporean biotech company focused on cancer immunotherapy. Tessa Therapeutics partnered with the National Cancer Centre Singapore (NCCS) to accelerate research and clinical trials.

This collaboration provided Tessa Therapeutics with access to the latest breakthroughs and expertise in cancer research, allowing them to fast-track the development of life-saving therapies. With the resources and knowledge obtained through this partnership, Tessa Therapeutics made significant strides in the field of cancer treatment, transforming the lives of patients and solidifying their position as a leader in biotechnology.
Breaking Borders, Expanding Horizons

In a globalized world, SMEs in Southeast Asia are looking beyond borders for growth and expansion. Cross-border collaborations offer them access to new markets and a chance to extend their influence beyond their home countries.

A prominent example of such collaboration is the partnership between Lazada and Alibaba. Lazada, Southeast Asia's leading e-commerce platform, faced stiff competition from regional and global players. To bolster their presence and enhance their offerings, Lazada partnered with Alibaba, the Chinese e-commerce giant. This strategic alliance opened doors to a vast network of suppliers, enabling Lazada to offer an extensive range of products to their customers across the region.

Furthermore, the collaboration facilitated cross-border trade, providing access to the Chinese market for Southeast Asian SMEs. By leveraging Alibaba's expertise and resources, Lazada achieved unprecedented growth and solidified its position as a key player in the e-commerce landscape.
The Wisdom of the Crowd

Crowdsourcing has emerged as a powerful tool for SMEs to engage their customers and stakeholders in the creative process. By soliciting ideas, feedback, and insights from the crowd, SMEs can leverage collective intelligence to make informed decisions and drive business growth.

A striking example of crowdsourcing in action is Dell's "IdeaStorm" platform. Dell, a leading technology company, encouraged customers to submit and vote on new product ideas and features. This direct engagement with customers not only helped Dell understand their needs and preferences but also enabled the company to tailor their product offerings accordingly.

The result was a range of products that resonated with their target audience, leading to increased customer loyalty and advocacy. By tapping into the wisdom of the crowd, Dell demonstrated that the power of collective intelligence can drive innovation and shape the future of businesses.
Embracing Change
In today's digital age, collaboration tools like Arma play a pivotal role in facilitating seamless team communication, enhancing productivity, and fostering innovation. Southeast Asian SMEs are increasingly embracing these digital collaboration platforms to optimize their operations and drive business success.
In the words of Thomas Edison, "The value of an idea lies in the using of it". Collaboration is the key to unlocking new frontiers of growth and innovation for SMEs in Southeast Asia. By drawing inspiration from successful collaborations and embracing digital collaboration tools like Arma, SME owners can pave their way to unprecedented growth and prosperity in the dynamic landscape of Southeast Asia.
Arma Chat is designed specifically for local SMEs, supporting local languages and prioritizing a simple user interface and ease of usability. It offers a wide range of features that can significantly enhance workplace performance.
Streamlined Communication: Arma provides a centralized platform for all workplace communication, eliminating the confusion and chaos of managing multiple messaging apps. With its user-friendly interface, SME teams can easily collaborate, share information, and stay connected, leading to improved efficiency and productivity.
Enhanced Security: Unlike WhatsApp, Arma prioritizes data privacy and offers robust security measures to protect sensitive business information. SME owners can have peace of mind knowing that their data is secure and compliant with data protection regulations.
Customized Solutions: Arma understands the unique needs of local SMEs in Malaysia. It offers customizable features and flexible options, allowing SME owners to tailor the platform to their specific requirements. Whether it's branding, language preferences, or workflow customization, Arma provides a personalized experience for each business.
Local Language Support: Arma acknowledges the importance of language diversity in Malaysia. It supports multiple local languages, ensuring that language barriers do not hinder effective communication and collaboration within teams.
Seamless Integration: Arma can seamlessly integrate with other essential business tools, such as project management platforms, CRM systems, and file sharing platforms. This integration enables SME owners to streamline workflows, enhance collaboration, and maximize the efficiency of their existing tools.
You can easily get started today by visiting our website or booking your personalized call today! 🎉