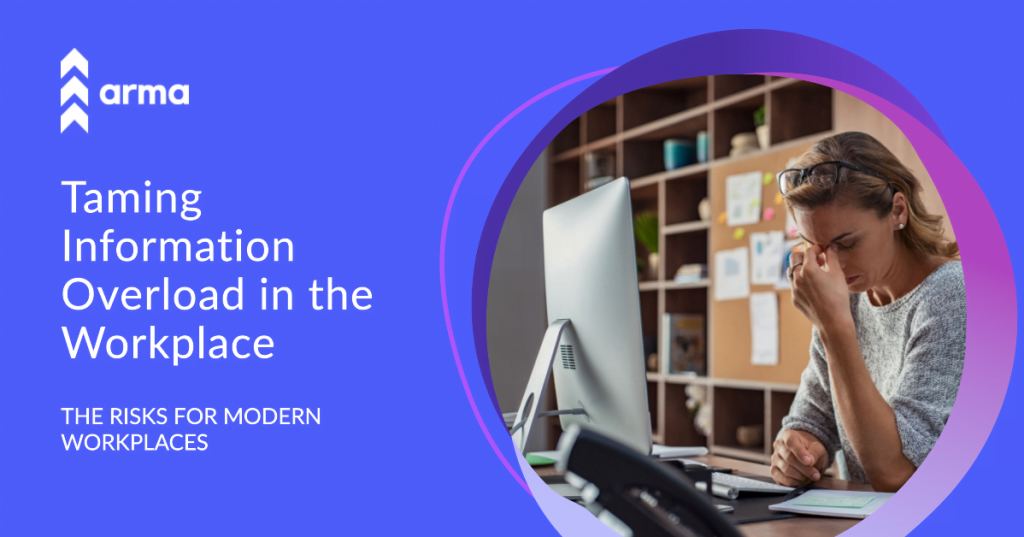 In today's fast-paced workplace, technology has unleashed a whirlwind of tools and platforms, revolutionizing the way we work. On average, companies employ a staggering 75 different technologies, and this number keeps climbing as organizations expand, sometimes reaching an astonishing 200 tools in their tech arsenal. The digital age has brought forth a deluge of data, with a mind-boggling 90% of the world's data created in just the last two years. Yet, within this data-driven frenzy lies a challenge that haunts modern professionals – the relentless specter of information overload.
Understanding the Beast
Picture the start of your workday: your inbox is already bursting with threaded conversations, a cascade of internal news, meeting invitations, vendor solicitations, phishing attempts, and even personal messages. Your day unfolds with constant interruptions, precious time squandered on searching for crucial information scattered across various platforms, and an ever-present sense of being overwhelmed. Welcome to the world of information overload.
Back in 1964, Bertram Gross coined the term "information overload," describing it as a scenario where the input into a system surpasses its processing capacity, leading to a decline in decision quality. Today, organizations grapple with this very dilemma, utilizing a mere 32% of available data while leaving a staggering 68% untapped. Employees, too, bear the brunt, with 62.5% of UK workers citing that data negatively affects their work, and 52% of US workers claiming that their work quality suffers due to inadequate time for information review.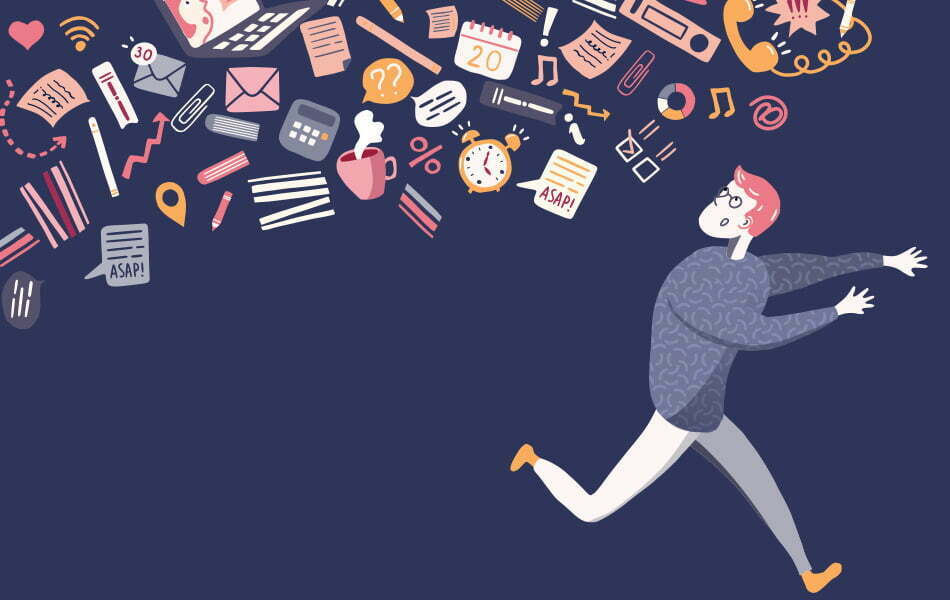 The Culprits
Information overload doesn't emerge in isolation; it is the culmination of several contributing factors. The main culprits include the proliferation of technology, an overwhelming information volume, a lack of data contextualization, redundancy in content and questions, and ineffective time management practices.
The Growing Tech Quagmire

Our work landscape has undergone a profound transformation, especially with the advent of remote and hybrid work models. Innovative tools like Zoom and Teams have taken the place of traditional in-person meetings, enabling interactions within organizations. However, these tools often limit interactions to your immediate network and teams. In the midst of this complexity, knowledge gaps appear, where issues linger unresolved due to tool limitations or department-specific silos.
The Avalanche of Information

Returning from a brief break to confront an overflowing inbox and a barrage of notifications is a familiar scenario. As tech stacks expand and silos rise, critical information becomes elusive, diverting you from your core tasks to answer questions or search for answers.
The Redundancy Dilemma

Information overload is exacerbated by the repetition of data, content, and queries. Re-entering the same information into multiple documents or encountering conflicting answers to identical questions consumes time and breeds confusion. Colleagues find themselves seeking help or responding to repetitive inquiries, perpetuating the cycle.
The Context Conundrum

Data is a precious resource, but when locked within silos, it loses its relevance. Organizations must infuse context into data to construct a comprehensive picture of their business. Sadly, when data remains isolated, vital puzzle pieces vanish.
Harnessing the Power of Choice
In the face of information overload, making astute choices becomes imperative. Distinguishing what is valuable and pertinent empowers individuals to construct meaningful combinations in their professional lives. It transcends mere decision-making; it is about problem-solving and implementing solutions that yield real impact.
The real potency of choice lies in employing it to envision solutions and execute them effectively. As we traverse the information jungle of the contemporary workplace, the power of choice emboldens us to thrive amidst the data deluge and make decisions that reverberate.
A survey reveals that 27% of employees grapple with the burden of information overload. This deluge engenders feelings of being overwhelmed by the plethora of information sources within the organization. Consequently, employees abandon tracking incoming information and dedicate excessive time to meetings, neglecting their core job responsibilities.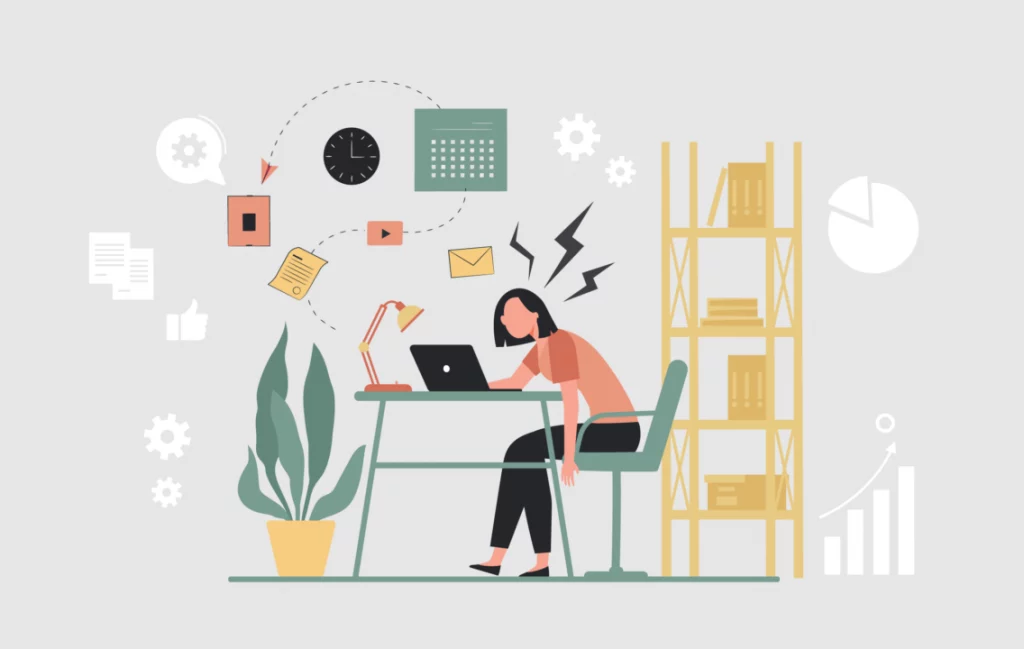 Nature; Not Volume
It is vital to recognize that information volume represents only a portion of the information overload equation. The true culprit is the information itself, specifically the extra "work" it imposes on recipients. This phenomenon is termed information burden, characterized by:
Duplicative Information

57% of employees contend with multiple communications about the same or similar topics concurrently.
Irrelevant Content

47% perceive company communications as irrelevant to their daily roles.
Effort-Intensive

38% report having to invest extra effort to keep pace with the information inundation.
Inconsistent Information

33% encounter communications that are often inconsistent or internally contradictory.
Highly complex work settings, including those marked by significant change or hybrid work models, heighten the risk of information burden. However, one group stands out – executive management. Research underscores that 40% of leaders and 30% of managers report elevated levels of burden. This is a pressing concern since those grappling with high burden are more susceptible to experiencing elevated decision regret and negative reactions to change.
The Cure for Overload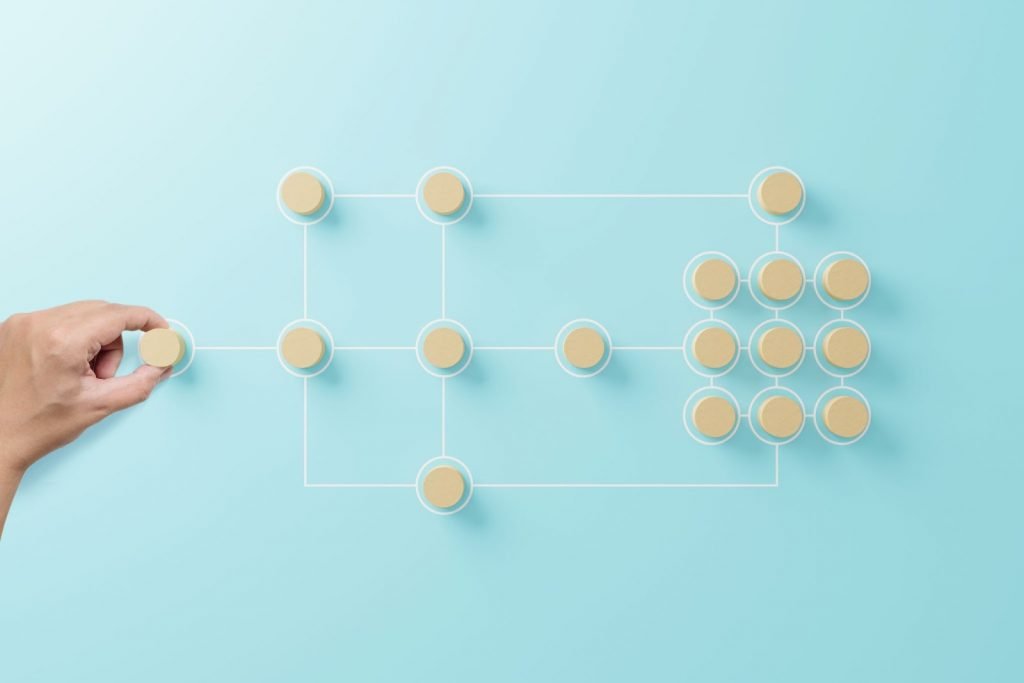 Information burden is a collective conundrum that organizations must urgently address. Two pivotal actions can help alleviate the suffering inflicted by information overload.
---
Step 1: Cultivating a Low-Burden Culture
Establish clear expectations for how information circulates within the organization. Define shared norms to reinforce information sharing in teams, empower employees to address instances of communication abuse, and reduce dysfunction.
Step 2: The Role of Management
Information overload is an authentic productivity dilemma in the contemporary workplace, but it is a challenge that can be surmounted. By fostering a low-burden culture and reinforcing accountability, organizations can elevate employee engagement, bolster decision-making, and enhance overall productivity. Navigating the information jungle becomes more manageable when information becomes a tool rather than a burden.
---
To improve how we communicate at work, organizations can team up and work together in a smart way. This means getting important departments like HR, Communications, and IT to work together. It's also crucial to include teams that often have too much information to handle, like customer service and sales. These teams directly affect how the organization talks to its customers.
To build a culture where we communicate better, it takes commitment, know-how, and everyone working together. Start by figuring out what information is really important and what's just getting in the way. Encourage your teams to agree to use less unnecessary information in their communications. When everyone works together like this, it leads to better communication and a workplace where everyone can succeed in their own special way.
Getting Started
Are you ready to supercharge your workplace and conquer information overload once and for all? Arma, the team collaboration service designed with your needs in mind, is here to transform the way you work.
Experience the Arma Chat Advantage – Start Your Free Trial Now!
🚀 Seamless Access to Vital Information: Arma puts the right information at your fingertips, eliminating endless searches and wasted time.
🧠 Contextualized Data: Our platform adds context to your data, making it more valuable and actionable. No more sifting through irrelevant or outdated information.
💡 Enhanced Decision-Making: Make informed choices based on accurate, up-to-the-minute information, leaving decision regret behind.
⏱️ Boosted Productivity: Arma's low-burden culture empowers your employees to focus on what matters, skyrocketing productivity and team morale.
👉 Join Industry Leaders: Countless organizations have already revolutionized their workplaces with Arma. Now, it's your turn!
🎯 Exclusive Offer: Act today, and access our premium features during your free trial period.
Don't let information overload hold you back. Unleash the future of work with Arma. Get started now, and experience a workplace where collaboration, productivity, and success know no bounds!
Every click brings you closer to a smarter, more efficient workplace. Don't miss out – take that leap with Arma today!